Captains can be hired for a limited amount of uses to enhance the capabilities of your ships.
Building a Tavern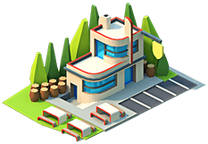 To be able to hire captains, you must first build a Tavern in your port. Tavern requires you to first upgrade your Town Hall to level 7.
The cost of the building itself is 60,000

and 7000

.
Hiring captains
When the Tavern is ready, we can now click on it to see the "hire" button.
Upon clicking it, we will be presented with a large menu that shows us all currently available captains.
HIRED CAPTAINS - the captains we have bought already and we are free to use them
CAPTAINS - the captains currently available in our Tavern, the selection of captains changes every day, there are about 3 gem captains and 2 captains available for coins (Recommended: Buy the coin captains every day)
EVENT CAPTAINS - just like above, but this tab will only feature captains specific for the current EVENT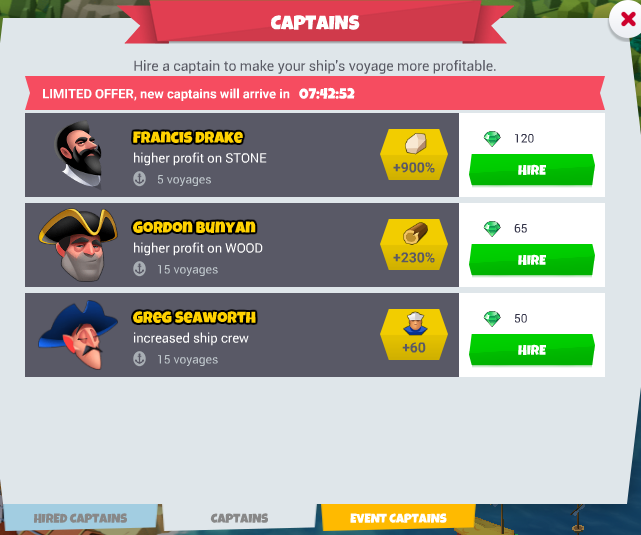 Assigning a captain to a ship
Mouseover your ship before sending it to a destination. You will now be able to click an additional button, which says assign a captain. Clicking it will take you to a list of captains you own.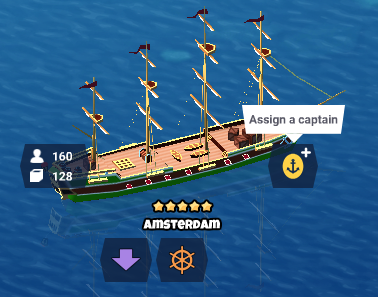 In this new window, you can see all your owned captains, the effects they provide, as well as the remaining number of voyages the effect will work on. After all the voyages are used, the captain will disappear.
Removing & changing captains
If you decide that you want to use a ship for something else for the time being, or that you want to save your captain for a different day, you can remove a captain from a ship without losing the remaining charges. You will be able to re-add said captain to any ship in the future.
In order to remove a captain, simply click on his face near the ship:
And then, in the menu that pops up, you can remove the captain by clicking remove. You can then add another one, or send a ship on a voyage without any captains at all.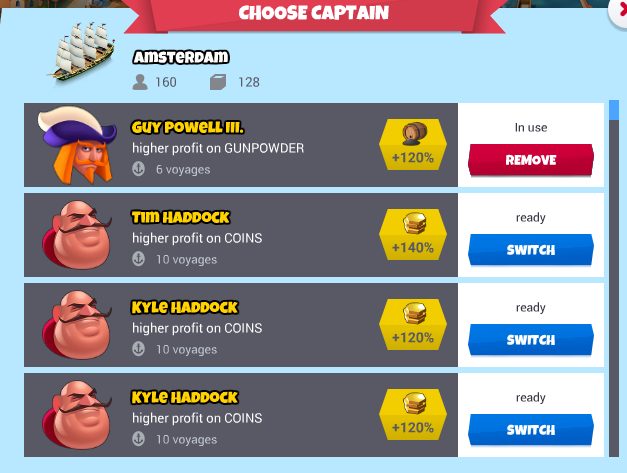 Frequently asked questions
Q: If I send a captain that enhances gains of MATERIAL A with a ship that travels to a destination with MATERIAL B, will I lose charges?
A: No, the voyages, or charges, are only substracted when a captain is used on a voyage that pertains to his effect. So for example, sending a captain that provides higher profit on COINS to a STONE destination, will not use ANY charges!

Q: Do captain effects work on materials shipped to contractors?
A: Yes, if you have a captain that increases lumber, you will send more lumber at once to a contractor, thus possibly finishing the contract earlier.

Q: Do captain effects work on market town trips (to sell materials)?
A: Sadly, no, they do not.

Q: Does the bonus from bonus experience captains stack with the additional XP provided by steamships?
A: Yes, it does.

Q: I'm waiting and waiting but I'm never offered captains that increase profit on wood/stone/iron/etc.
A: Unfortunately there is a random factor here. Also, some captains are clearly less frequent than others. Based on general experience with the system, the most frequently available captains are the XP, Destination Cost, and +Sailor ones.

Q: I have unused captains from a past event, can something be done with them?
A: The game usually introduces the possibility of selling these obsolete captains to get some additional coins. Unfortunately this seems to be late sometimes.