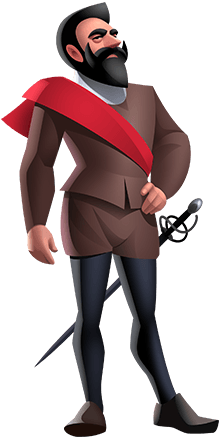 Required: Level 100, Completion of Isabella of Castile

Crew Cost: 100

#
Required
Reward
Bonus*
Ship Capacity**
1
4800
3500
2500
6
800
2
5600
3600
3000
7
800
3
7500
3700
6000
10
750
4
3500
3800
10 000
5
700
5
1000
3900
10 000
1
6
3000
4000
5000
4
750
7
5400
4100
10
6
900
8
6300
4200
15 000
7
900
9
4000
4300
5000
5
800
10
500
4400
10 000
1
500
11
10 000
4500
15 000
10
1000
12
4000
4600
10 000
4
1000
13
1500
4700
20 000
1
14
9000
4800
7500
6
1500
15
14 000
5000
15
14
1000
16
10 000
5200
50 000
10
1000
17
1000
5400
15 000
2
500
18
20 000
5600
30 000
20
1000
19
6000
5800
15 000
8
750
20
2000
6000
75 000
1
21
15 000
6200
10 000
12
1250
22
17 500
6400
12
14
1250
23
12 500
6600
20 000
10
1250
24
30 000
6800
60 000
20
1500
25
8000
7000
20 000
8
1000
26
2500
7200
30 000
1
27
1250
10 000
90 000
2
625
28
18 000
7600
20 000
12
1500
29
21 000
7800
100 000
14
1500
30
22 500
8200
20
15
1500
31
60 000
8600
50 000
30
2000
32
18 000
9000
100 000
12
1500
33
3000
9400
26 000
1
34
1500
15 000
110 000
3
500
35
50 000
10 200
25 000
20
2500
36
45 000
10 600
20
18
2500
37
30 000
11 000
30 000
15
2000
38
75 000
11 400
130 000
30
2500
39
24 000
11 800
30 000
12
2000
40
4500
12 200
70 000
1
41
60 000
12 600
125 000
20
3000
42
54 000
13 000
37 500
18
3000
43
37 500
18 000
160 000
15
2500
44
90 000
13 800
90 000
30
3000
45
1800
20 000
28
4
450
46
32 000
25 000
40 000
16
2000
47
6000
15 600
175 000
1
48
98 000
16 200
45 000
28
3500
49
96 000
16 800
55 000
24
4000
50
160 000
17 400
200 000
40
4000
51
48 000
32 000
125 000
16
3000
52
8000
18 600
225 000
1
53
126 000
19 200
55 000
28
4500
54
100 000
35 000
30
20
5000
55
120 000
20 400
275 000
24
5000
56
2000
40 000
70 000
4
500
57
200 000
21 600
75 000
40
5000
58
64 000
45 000
150 000
16
4000
59
10 000
30 000
300 000
1
60
154 000
35 000
30
28
5500
Final reward: Cacafuego (See below)
Totals
Requirements
Rewards
Difference
652 200
1 295 000
642 800
552 400
980 000
427 600
367 200
476 000
108 800
220 000
278 500
58 500
207 000
308 000
101 000
8050
N/A
-
38 500
N/A
-
N/A
164
-
Total Experience: 739 300
Cacafuego

Reward for finishing all the contracts
Upgrades
Cost
Stats
1 star
N/A
80 , 27
N/A
2 stars
275 000 , 100 000 , 20 000
90 , 29
20 000
3 stars
450 000 , 145 000 , 15 000
100 , 32
25 000
4 stars
650 000 , 155 000 , 30 000
110, 35
30 000
5 stars
950 000 , 195 000 , 25 000
120 , 40
45 000
TOTAL:
2 020 000 595 000 50 000 40 000
*Bonus - the multiplier of materials your ships carry, so if the bonus is 2, a ship with 30 capacity will carry 60 of a given commodity.
**Ship Capacity - total shipping capacity needed to complete the contract
Ad blocker interference detected!
Wikia is a free-to-use site that makes money from advertising. We have a modified experience for viewers using ad blockers

Wikia is not accessible if you've made further modifications. Remove the custom ad blocker rule(s) and the page will load as expected.