On 20 November 2018, major changes to Seaport were implemented.
Once these changes are processed on this page, this message will disappear.
It'll take some time, though. Please be patient.
Below is the list of ships that are rather rare and can only be acquired during a very limited period of time.
Free Ships
Edit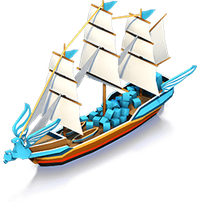 PF Vizsla III

Edit
Limit: 1
Type: Sailing ship (1 slot)
Museum reward: 10 000
5 stars
Gifted for free during Seaport's 3rd Birthday
250, 10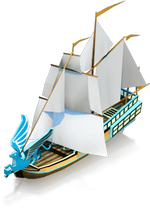 PF Vizsla

Edit
Limit: 1
Type: Sailing ship (1 slot)
Museum reward:
5 stars
Gifted for free during Seaport's 1st Birthday
200, 5
PF Jubilee

Edit
Limit: 1
Type:
Museum reward:
5 stars
Gifted for free during PF's 10th Birthday
200, 10
Time-Limited offer ships
Edit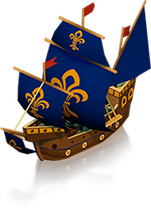 Part of the special offer - STARTER PACK
Limit: 1
Type: Normal
5 stars
Part of the special offer - STARTER PACK
60, 11
Level: 30
Limit: 1
Type: Normal
5 stars
Part of the special offer - REDONDA PACKAGE
80, 22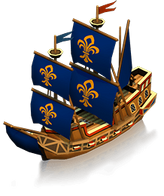 Level: 35
Limit: 1
Type: Normal
5 stars
Part of the special offer - LATINA PACKAGE
90, 24
La Constance

Edit
Level: 45
Limit: 1
Type: Normal
5 stars
Part of the special offer - LA CONSTANCE PACKAGE
90, 27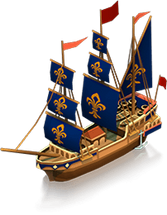 Antony Roll

Edit
Level: 50
Limit: 1
Type: Normal
5 stars
Part of the special offer - ANTHONY ROLL PACKAGE
100, 29
Botafogo

Edit
Level: 60
Limit: 1
Type: Normal
5 stars
Part of the special offer - BOTAFOGO PACKAGE
120, 72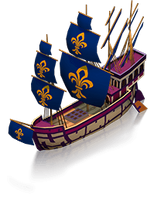 Defiance

Edit
Level: 75
Limit: 1
Type: Normal
5 stars
Part of the special offer - DEFIANCE PACKAGE
110, 34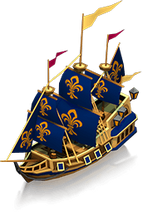 Level: 95
Limit: 1
Type: Normal
5 stars
Part of the special offer - DESIRE PACKAGE
120, 39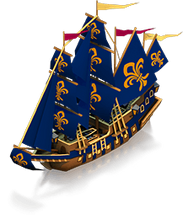 Level: 110
Limit: 1
Type: Normal
5 stars
Part of the special offer - LION PACKAGE
130, 40
Merhonour

Edit
Level: 125
Limit: 1
Type: Normal
5 stars
Part of the special offer - MERHONOUR PACKAGE
130, 44
Level: 145
Limit: 1
Type: Normal
5 stars
Part of the special offer - REPULSE PACKAGE
150, 63