Steamships, or steamers, are ships propelled by steam engines. They provide DOUBLE the experience of the Sailing Ships. This page lists all steamers available in the regular shop. This means that all the ships listed here will provide double experience for each trip.
The capacity of steamships is considerably higher than that of the sailing ships available at similar player level.
The crew values remain around the same level as for the sailing ships.
Event Steamships
Edit
For details on steam ships offered in the events, please refer to the pages devoted to event offers. Both sailing and steam ships are listed together there.
List of ships
Edit
SS Phoenix

Edit
Level: 88
Limit: 1
Stars
Cost
Stats
1 star
480 000 300
60 , 20
22 000
2 stars
168 000 150 000
65 , 24
7500
3 stars
225 000 , 400
70 , 29
8500
4 stars
330 000 210 000
80 , 35
10 000
5 stars
430 000 , 500
90 , 43
16 000
TOTAL
1 633 000 360 000 1200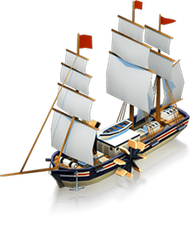 SS Savannah

Edit
Level: 94
Limit: 1
Stars
Cost
Stats
5 stars
700
110  60 
110 000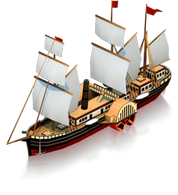 SS California

Edit
Level: 99
Limit: 2
Stars
Cost
Stats
1 star
300
60 , 26
31 000
2 stars
180 000 , 70 000
65 , 31
11 000
3 stars
240 000 , 85000 , 600
70 , 37
14 500
4 stars
340 000 , 110 000
80 , 44
17 000
5 stars
450 000 , 140 000 , 800
90 , 52
23 000
TOTAL
3001 210 000 405 000 1400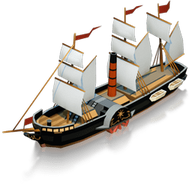 SS Britannia

Edit
Level: 110
Limit: 1
Stars
Cost
Stats
1 star
2 760 000, 500 000, 900
60 , 29
10 800
2 stars
840 000 , 200 000
65 , 35
36 000
3 stars
1 000 000 , 250 000 , 1200
70 , 42
48 000
4 stars
1 420 000 , 300 000
80 , 50
60 000
5 stars
2 000 000 , 450 000 , 1500
90 , 60
84 000
TOTAL
8 020 000, 1 700 000, 3600
SS President

Edit
Level: 114
Limit: 2
Stars
Cost
Stats
1 star
360
70 , 33
10 000
2 stars
400 000 , 100 000 , 1100
80 , 37
30 000
3 stars
500 000 , 150 000 , 25 000
90 , 42
35 000
4 stars
750 000 , 180 000 , 1500
100 , 50
45 000
5 stars
1 000 000 , 220 000 , 35 000
110 , 60
60 000
TOTAL
360 2 650 000 650 000 60 000 2600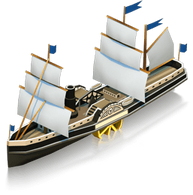 SS Pacific

Edit
Level: 120
Limit: 1
Stars
Cost
Stats
1 star
1 300 000 , 300 000 , 800
60 , 29
70 000
2 stars
400 000 , 120 000 , 1000
65 , 32
25 000
3 stars
550 000 , 150 000 , 1200
70 , 36
30 000
4 stars
800 000 , 180 000 , 1400
80 , 42
40 000
5 stars
1 150 000 , 240 000 , 1600
90 , 50
60 000
TOTAL
4 200 000 990 000 6000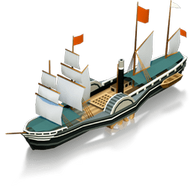 SS Shamrock

Edit
Level: 125
Limit: 1
Stars
Cost
Stats
5 stars
750
100 , 72
350 000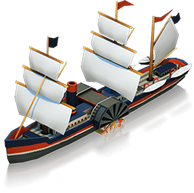 SS Baltic

Edit
Level: 130
Limit: 1
Stars
Cost
Stats
1 star
360
80 40
125 000
2 stars
500 000 , 150 000 , 800
90 42
45 000
3 stars
600 000 , 200 000 , 900
95 46
60 000
4 stars
800 000 , 250 000 , 1000
100 53
75 000
5 stars
1 100 000 , 300 000 , 1200
110 63
110 000
TOTAL
360 3 000 000 900 000 3900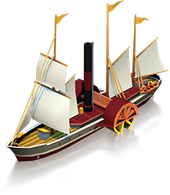 CSS Nashville

Edit
Level: 136
Limit: 1
Stars
Cost
Stats
1 star
1 700 000 , 400 000 , 1400
80 34
120 000
2 stars
600 000 , 150 000 , 700
85 36
40 000
3 stars
800 000 , 200 000 , 800
90 40
50 000
4 stars
1 000 000 , 250 000 , 1000
95 45
70 000
5 stars
1 400 000 , 350 000 , 1300
100 52
100 000
TOTAL
5 500 000 1 350 000 5200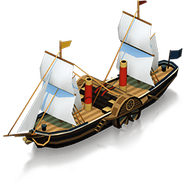 SS Arabia

Edit
Level: 139
Limit: 1
Stars
Cost
Stats
1 star
360
85 42
160 000
2 stars
800 000 , 200 000 , 1000
90 45
55 000
3 stars
950 000 , 250 000 , 1250
95 50
70 000
4 stars
1 300 000 , 300 000 , 1500
100 56
85 000
5 stars
2 000 000 , 350 000 , 1800
110 66
125 000
TOTAL
360 5 050 000 1 100 000 5650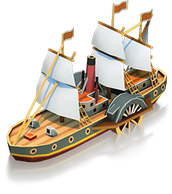 SS Steamer

Edit
Level: 146
Limit: 1
Stars
Cost
Stats
1 star
2 600 000 , 500 000 , 3200
80 38
180 000
2 stars
1 000 000 , 200 000 , 1200
85 40
70 000
3 stars
1 300 000 , 250 000 , 1400
90 44
80 000
4 stars
1 700 000 , 375 000 , 1750
95 49
100 000
5 stars
2 400 000 , 450 000 , 2200
100 56
150 000
TOTAL
9 000 000 1 775 000 9750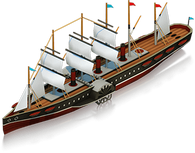 SS Great Eastern

Edit
Level: 149
Limit: 1
Stars
Cost
Stats
5 stars
750
140 85
760 000
USS General Bragg

Edit
Level: 152
Limit: 1
Stars
Cost
Stats
1 star
360
90 45
220 000
2 stars
1 000 000 , 550 000 , 1100
100 48
70 000
3 stars
1 400 000 , 650 000 , 1200
110 53
95 000
4 stars
2 000 000 , 750 000 , 1400
120 59
120 000
5 stars
2 800 000 , 900 000 , 1650
130 69
175 000
TOTAL
360 7 200 000 2 850 000 5350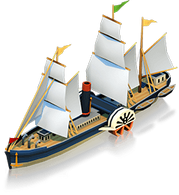 SS Arctic

Edit
Level: 159
Limit: 1
Stars
Cost
Stats
1 star
360
90 46
325 000
2 stars
1 150 000 , 390 000 , 1200
100 50
100 000
3 stars
1 400 000 , 450 000 , 1300
110 55
140 000
4 stars
2 000 000 , 550 000 , 1400
120 61
200 000
5 stars
3 000 000 , 700 000 , 1650
130 72
280 000
TOTAL
360 7 550 000 2 090 000 5550
SS Central America

Edit
Level: 154
Limit: 1
Stars
Cost
Stats
1 star
520 000 , 140 000 , 2500
90 45
240 000
2 stars
1 040 000 , 280 000 , 2750
100 50
280 000
3 stars
2 080 000 , 560 000 , 3000
110 56
320 000
4 stars
4 160 000 , 1 120 000 , 3250
120 66
320 000
5 stars
8 320 000 , 2 240 000 , 3500
130 70
400 000
TOTAL
16 120 000 4 340 000 15 000
USS Rhode Island

Edit
Level: 166
Limit: 1
Stars
Cost
Stats
1 star
4 500 000 , 900 000 , 3500
90 40
400 000
2 stars
1 200 000 , 350 000 , 1400
100 43
180 000
3 stars
1 800 000 , 400 000 , 1600
110 48
220 000
4 stars
2 500 000 , 500 000 , 2000
120 54
280 000
5 stars
3 600 000 , 700 000 , 2500
130 62
350 000
TOTAL
13 600 000 2 850 000 11 000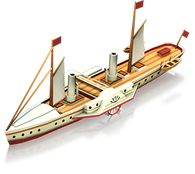 CSS Robert E. Lee

Edit
Level: 169
Limit: 1
Stars
Cost
Stats
1 star
360
100 49
550 000
2 stars
2 300 000 , 800 000 , 1300
110 53
180 000
3 stars
2 800 000 , 950 000 , 1400
120 58
220 000
4 stars
3 600 000 , 1 150 000 , 1600
130 64
280 000
5 stars
5 000 000 , 1 400 000 , 1800
140 75
400 000
TOTAL
360 13 700 000 4 300 000 6100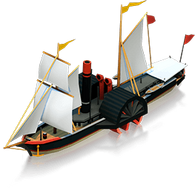 USS Maratanza

Edit
Level: 174
Limit: 1
Stars
Cost
Stats
5 stars
750
150 100
1 750 000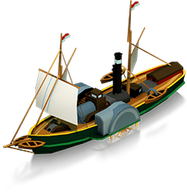 Furst Menschikoff

Edit
Level: 175
Limit: 1
Stars
Cost
Stats
1 star
6 000 000 , 1 250 000 , 2000
100 45
400 000
2 stars
2 200 000 , 600 000 , 1000
110 49
150 000
3 stars
2 800 000 , 700 000 , 1100
120 54
180 000
4 stars
3 500 000 , 900 000 , 1300
130 60
250 000
5 stars
5 500 000 , 1 100 000 , 1700
140 67
350 000
TOTAL
20 000 000 4 550 000 7100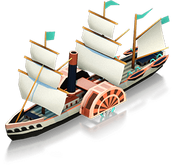 CSS William G Hewes

Edit
Level: 181
Limit: 1
Stars
Cost
Stats
1 star
360
100 46
600 000
2 stars
2 600 000 , 850 000 , 1400
110 50
210 000
3 stars
3 300 000 , 1 100 000 , 1500
120 56
270 000
4 stars
4 500 000 , 1 250 000 , 1700
130 66
300 000
5 stars
6 600 000 , 1 375 000 , 2000
140 79
475 000
TOTAL
360 17 000 000 4 575 000 6600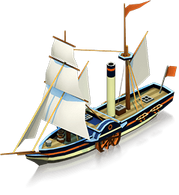 SS Sirius

Edit
Level: 185
Limit: 1
Stars
Cost
Stats
5 stars
800
150 105
2 650 000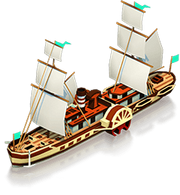 USS Fort Jackson

Edit
Level: 186
Limit: 1
Stars
Cost
Stats
1 star
10 000 000 , 2 000 000 , 3600
100 52
600 000
2 stars
3 300 000 1 200 000 , 1500
110 54
220 000
3 stars
4 000 000 , 1 400 000 , 1700
120 58
260 000
4 stars
5 000 000 , 1 600 000 , 2200
130 65
320 000
5 stars
8 000 000 , 1 800 000 , 2800
140 73
500 000
TOTAL
30 300 000 8 000 000 11 800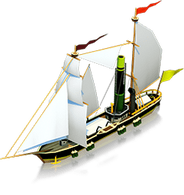 SS Xantho

Edit
Level: 191
Limit: 1
Stars
Cost
Stats
1 star
360
110 56
950 000
2 stars
3 000 000 1 200 000 , 1450
120 60
350 000
3 stars
4 000 000 , 1 400 000 , 1600
130 66
400 000
4 stars
5 500 000 , 1 750 000 , 2200
140 76
500 000
5 stars
8 000 000 , 2 000 000 , 2750
150 88
650 000
TOTAL
360 20 500 000 6 350 000 8000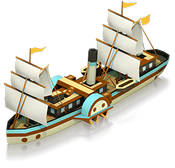 SS Thistle

Edit
Level: 194
Limit: 1
Stars
Cost
Stats
1 star
360
110 56
1 000 000
2 stars
4 200 000 1 350 000 , 1500
120 60
330 000
3 stars
5 200 000 , 1 700 000 , 1750
130 67
420 000
4 stars
7 200 000 , 1 950 000 , 2300
140 77
550 000
5 stars
10 500 000 , 2 250 000 , 3000
150 90
750 000
TOTAL
360 27 100 000 7 250 000 8550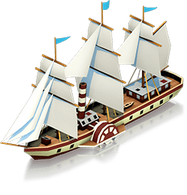 PS Vernon

Edit
Level: 195
Limit: 1
Stars
Cost
Stats
5 stars
750
150 112
3 300 000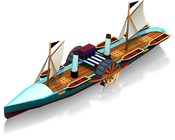 USS Banshee

Edit
Level: 200
Limit: 1
Stars
Cost
Stats
1 star
11 500 000 2 200 000 , 3000
100 55
800 000
2 stars
4 000 000 1 300 000 , 1000
110 58
300 000
3 stars
5 200 000 , 1 400 000 , 1250
120 62
350 000
4 stars
6 500 000 , 1 750 000 , 1750
130 68
425 000
5 stars
10 000 000 , 2 000 000 , 2500
140 75
550 000
6 stars
180
150 84
650 000
7 stars
200
160 96
750 000
TOTAL
380 37 200 000 8 650 000 9500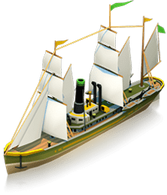 SS Agamemnon

Edit
Level: 201
Limit: 1
Stars
Cost
Stats
5 stars
750
150 120
4 200 000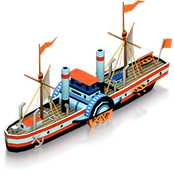 Level: 209
Limit: 1
Stars
Cost
Stats
1 star
15 000 000 2 800 000 , 3250
110 62
1 000 000
2 stars
5 000 000 1 500 000 , 1000
120 66
400 000
3 stars
6 000 000 , 1 600 000 , 1300
130 72
480 000
4 stars
8 000 000 , 1 850 000 , 1800
140 80
550 000
5 stars
12 000 000 , 2 400 000 , 2600
150 90
800 000
TOTAL
46 000 000 10 150 000 9950